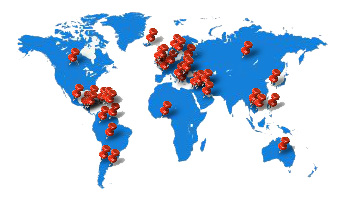 We manufacture a wide variety of lip care, breath fresheners and sour candy products covering a wide spectrum of needs for OEM and private label. We package products to your specification, offering a turnkey service. European and ASEAN regulatory standards are followed strictly to avoid registration issues when importing; so when you order from us your product is ready to move straight into distribution, no matter what corner of the world you distribute to.
Would you like to become a Distributor?
OraLabs, Inc. will provide you with every documentation your Health Ministry will require, from Certificates of Free Sale to Microbiology, Stability and In-Vivo Tests. You name it, we will deliver it so you can only focus on what you excel at: distribution in your country.
OraLabs' annual capacities are in excess of 100 million units of various product are sold in morethan 50,000 retail stores and shipped to 30+ countries worldwide.
With experience and reach throughout the personal care industry, OraLabs has what it takes to safely manufacture and deliver quality personal care products all over the world.
Founded in 1990, OraLabs, Inc. operates out of an FDA registered and audited, 100,000 sq. ft. facility in Parker, Colorado and employees over 250 people.